I want to introduce you to the city you might have never heard about but that definitely deserves to be visited at least once. Welcome to Kharkov! Kharkov is a very romantic city. There are plenty of romantic cafes, streets, monuments, places to go. Even Kharkov climate is romantic.
Romantic Kharkov
in summer
Kharkov has four distinct seasons. Summer is very warm and sunny, everything is blooming and smelling, the sun is shining, birds are singing. It`s romantic, isn`t it? There are so many green places in Kharkov, like parks, forests, gardens where you can have a walk with your second half and enjoy a lovely view around. You can arrange a picnic right in the center of the city or rent a little boat and take a boat ride. There are so many nice cozy romantic countryside hotels with a breathtaking view, where you and your love can spend a romantic weekend together.
Romantic Kharkov
in Autumn
Autumn in Kharkov is marvelous and incredibly beautiful. Kharkov looks so romantic wearing gold and orange colors. One of the best ways to see it would be taking a ride on a cable car and look at the fiery colorful Kharkov from above. As an alternative you can have a romantic walk in the forest and collect a bouquet from colorful leaves.
Romantic Kharkov
in winter
Winter in Kharkov can be very romantic too! People extremely need someone to keep their hearts warm in these cold and snow months. Just imagine you and your second half sit in a small cozy cafe and drink warm chocolate while watching snow falling outside the window.
Every year citizens of Kharkov and guests of the city can enjoy the beautifully decorated of so many colorful lights Christmas tree. We are so proud about the fact that for several years Christmas tree in Kharkov has been winning in nomination as the highest Christmas tree in Ukraine. It`s so romantic to celebrate New Year on the biggest square in Ukraine – Freedom Square and enjoy a wonderful firework, isn`t it? As well you can try a winter entertainment at named Kharkov Switzerland complex. If you are a fan of winter sports or of mulled wine it will be a perfect place to spend a quality time with your soul mate.
Romantic Kharkov
in spring
Spring in Kharkov is one of the loveliest time of the year. Spring begins with the melting of snow and the trees blooming. You can breathe an extremely fresh air and enjoy the sun shining. Ukrainian women take off the winter jackets and take on nice dresses and just in one moment the city starts to look incredibly beautiful.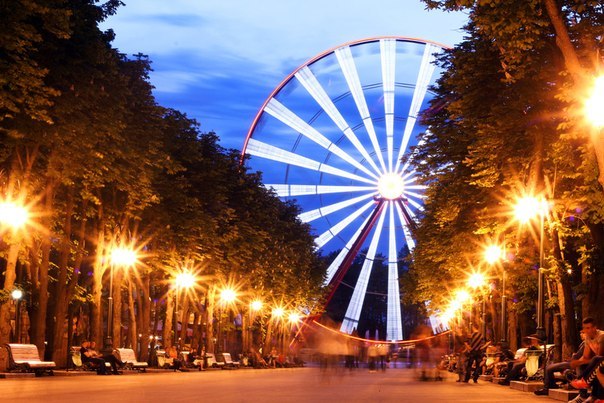 It is difficult to suggest what season is better to choose for visiting Kharkov city but the side of romantic Kharkov you can see all year long.